Circular, Low-Carbon, Closed-Loop Economy – the Reduce, Reuse, Recycle for Sustainable Smart Business
Jimmy Rodriguez has over 22 years of experience within the supply chain industry. Recently named iQor's Chief Sustainability Officer in addition to SVP of Global Supply Chain, Jimmy will lead the company's Sustainability 2020 initiative and also serve on the board of directors for the 2018 QuEST Forum.
Read on to see how sustainability efforts can make real impacts, and how organizations and suppliers can work together in saving us – and the earth – from our obsession with connected devices.
Q. You've recently been named iQor's first Chief Sustainability Officer. How did you get started in the business?
A. I started my career at Skyway Freight system and worked up into large global corporations such as Flextronics, UPS, Celestica, and Sumitomo. It was at companies like these where I became extremely familiar with the supply chain industry and how easily and quickly it must change and adapt to the trends and needs of consumers. Supply chain is the link between product and customers, and it's given me deep insight into how new technology and the wave connected devices have impacted the industry and the environment, which has obviously struck a chord with me throughout the years.
Q. As consumers, we love our connected devices – maybe a little too much. What kind of impact have you seen from a sustainable supply chain perspective?
A. There are over 8 billion smartphones, tablets, laptops and other connected devices in use today. That number is rising fast. By 2020, we'll have almost 21 billion. Connected devices make our world run. But with this breakneck expansion, they could make the world run of precious natural resources. That's not the only problem. As the number of devices increase, so does their potential to generate toxic e-waste when they're thrown away in landfills. And that's where most of them end up often after only two years.
Q. Why is it important for organizations to work with their suppliers throughout the supply chain?
A. Just by returning one million laptops to productive use saves enough energy to power 3,600 US households for 12 months. It also prevents significant electricity-associated CO2 emissions. By responsibly recycling one thousand tons of e-waste, companies can keep the bad stuff like lead, cadmium and other dangerous substances out of the environment. And if they can double product and resource life, they can cut e-waste in half.
Q. What can companies and their suppliers do to ensure they are sustainable and responsible?
A. Companies and suppliers need to partner together to swap the take-make-waste linear business model for a circular, low-carbon, closed-loop economy where all materials used in manufacture and packaging circle back to earth. In other words, zero net waste. We also need to leave the throwaway culture behind by keeping products in use as long as possible. This slows the depletion of natural resources and reduces manufacturing-related carbon emissions. Supply chain companies have that power to shift the culture from needing the 'latest and greatest' to keeping the latest great.
Q. Where do you see sustainable supply chain heading? Are things trending up?
A. Well, yes. Sustainability is one of those things that once you start, and see all the benefits, it's very hard to revert back to do doing anything else. What companies need to remember is that it is more than just monitoring performance measures. Companies across industries will be called to be more transparent in their sustainability efforts in terms of their finance flows and where and how goods are made, recycled, and disposed.
Q. iQor announced last year their Sustainability 2020 initiative, which includes the adoption of the Sustainability Assessor, developed by the QuEST Forum. Can you tell us a little more about that?
A. Sustainability 2020 was created to help us focus and intensify our efforts in reaching our goal of creating zero waste. The adoption of the QuEST Forum Sustainability Assessment Model will help further drive and benchmark our sustainable supply chain practices. We are also now seated on the Board at Quest where are learning about and sharing best practices with very large and successful organizations.
Q. What kind of results has iQor seen since launching this program, and what do you personally wish to achieve?
A. We're proud to say that we were named Sustainability Service of the Year in the Business Intelligence 2017 Sustainability Awards program. Since its launch, we have recycled 80+ tons of metals, 7,500 tons of cardboard, 265 tons of plastic, and 210 tons of foam. This has really put us on the right path to recycle 100 percent of our manufacturing and packaging waste by 2020. My hopes and goals are to go beyond the initiative by setting iQor up to continue helping to empower organizations to maximize product life-cycles for the sake of generations to come – to put Earth first by making their products last for as long as possible.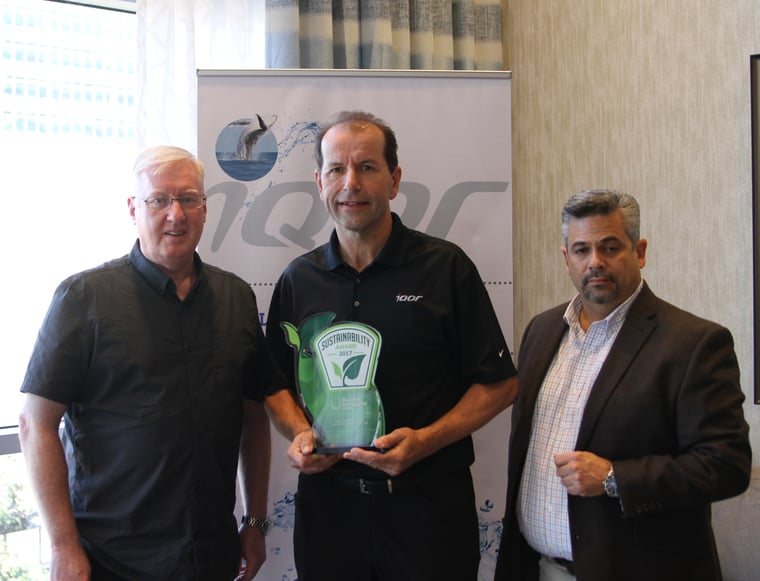 iQor CEO, Hartmut Liebel, holds our 2017 Sustainability Award along with Stevie McGoldrick (left) and iQor Chief Sustainability Officer and SVP of Global Supply Chain Jimmy Rodriguez.